---
ORCHESTRAS
PHILHARMONIE BADEN-BADEN
The orchestra's guestbook today represents a real Who's Who in the history of European and world music: Franz Liszt, Hector Berlioz, Johann Strauss, Johannes Brahms, Richard Strauss, Enrico Caruso, Wilhelm Furtwängler, Karl Böhm, Béla Bartók, Bruno Walter, Igor Stravinsky, Edita Gruberová, José Carreras, Placido Domingo, Anna Netrebko, Anne-Sophie Mutter, and many others, all have accompanied for more than 550 years the evolution of the orchestra through the collaborations and works that each of his geniuses has signed for the training. The Hamburg Ballet, the Zurich Ballet (Heinz Spoerli), the Vienna State Opera ballet company and La Scala in Milan have also collaborated with the Baden-Baden Orchestra. The story continues. Concerts and tours bring the orchestra an indisputable international notoriety: China, United Arab Emirates, Europe, etc. With record, television and radio productions, chamber music evenings or classical open-air symphonic concerts in the beautiful gardens of Baden-Baden, the Philharmonie presents a diverse range of concerts, thus meeting the various demands of the famous city. German water. The orchestra is also developing a very popular educational program with the Carl Flesch Academy: master classes for the elite of young string instrumentalists.
France Management
---
ORCHESTRAS
©Eichbichler
KAMMER CHOR STUTTGART
The Stuttgart Kammer Chor is considered to be one of the best ensembles of its kind. Founded in January 1968, Frieder Bernius made the choir an exceptional phenomenon celebrated by the public and the press. The choir's repertoire spans from the 17th to the 21st century. "No superlative is great in praising this choir," Die Zeit newspaper wrote. The vocal brilliance, perfect intonation and unmatched plasticity of the text's declamation are unmatched. The ensemble receives invitations from all major European festivals and performs in renowned concert halls, alone or with the Orchestra of the Hofkapelle Stuttgart. Its worldwide reputation has been documented since 1988 by regular tours in North America, Asia and South America. In August 2018, the chamber choir was invited for an eight concerts tour of China and Taiwan. This fabulous ensemble has been invited to Israel every two years since 1984. Notably in 2015, it performed there on the 50th anniversary of the establishment of diplomatic relations between Israel and Germany. 40 of the 100 recordings made have won awards, both in Germany and abroad. In France, a large number of CDs have obtained a "Diapason d´Or".
France Management
---
ORCHESTRAS
©PKF
PRAGUE PHILHARMONIA
Conductor: Emmanuel Villaume
In 1994, the world-famous conductor Jiří Bělohlávek together with a group of talented young musicians founded the Prague Chamber Philharmonic Orchestra, which has been active to this day; since its 20th season under the name PKF — Prague Philharmonia. Over the 27 years of its existence, this orchestra has gained respect throughout the music world. Regular invitations to tours abroad as well as recording projects with the most renowned international labels bear witness to this. The PKF – Prague Philharmonia has performed with many internationally acclaimed conductors and soloists, such as Martha Argerich, Jefim Bronfman, András Schiff, Gil Shaham, Anna Netrebko, Plácido Domingo to name just a few. The orchestra is also regularly invited to international music festivals (BBC Proms, Dresdner Musikfestspiele, MITO Settembre Musica, Pražské jaro, Festspielhaus Baden-Baden) and gives concerts at top world venues (Berliner Philharmonie, Elbphilharmonie Hamburg, Gasteig Mnichov, Tokyo Suntory Hall, Royal Opera House Muscat in Oman, Sheikh Jaber Al-Ahmad Cultural Centre in Kuwait, among others). Since the 2015-2016 season, the orchestra has been led by the French conductor Emmanuel Villaume. Freshness, energy and perfectionism are hallmarks of the orchestra.
European Management
---
ORCHESTRAS
©WolfgangSchmidt
STUTTGART CHAMBER ORCHESTRA
Thomas Zehetmair Violin and Conductor
Preserving tradition while setting programmatic standards for the future: It is the tension between these two poles from which the SKO ( Stuttgarter Kammer Orchestra) draws creative energy 75 years after its founding by Karl Münchinger. Under the direction of its general and artistic director Markus Korselt, principal conductor Thomas Zehetmair and artistic partner Jörg Widmann, it presents a great repertoire from early Baroque to Viennese Classic and New Music to Jazz and Electronic Music in new formats which makes it one of the leading ensembles of its kind. Together with leading artists, the SKO performs about 90 concerts including up to three intercontinental tours each year. With its award-winning education program "SKOhr-Labor", the ensemble is making an indispensable contribution to the music culture of the future. Furthermore, in the course of digitization new projects and visions are constantly being created to reach audiences across borders with virtual and augmented reality, hologram technology or music-games.
France Management
---
CHAMBER MUSIC
©DLaval
©Visual-Cinémathèquefrançaise2014
DANIELLE LAVAL & BRIGITTE FOSSEY
Piano & actress
Shows – Literary and musical adaptations
If Danielle Laval is an internationally loved and respected pianist, it is obviously thanks to her playing, her legato, her sensitivity which highlight the works she chooses so well, but also for her absolute respect for the public and his partners. His friendly meeting with the famous actress Brigitte Fossey, (Jeux Interdits / R. Clément, Un Mauvais fils / Cl. Sautet, The Man Who Loved Women / F. Truffaut, Les Gens de Mogadors, Le Château des Oliviers, Jeanne au bûcher, Pierre et le Loup, Le Carnaval des Animaux…), leads him to contextualize the dialogue of the arts, by combining the competition of the language of words with that of music in many shows… Festivals, concert halls and museums welcome these two great artists regularly, in France and abroad.
Gourmandises, Literary and musical adaptation after the work of J. A. Brillat-Savarin, Mozart: Letters to his family, The Life of Rachmaninoff, Mendelssohn: Letters to his sister, etc.
Mondial management
---
CHAMBER MUSIC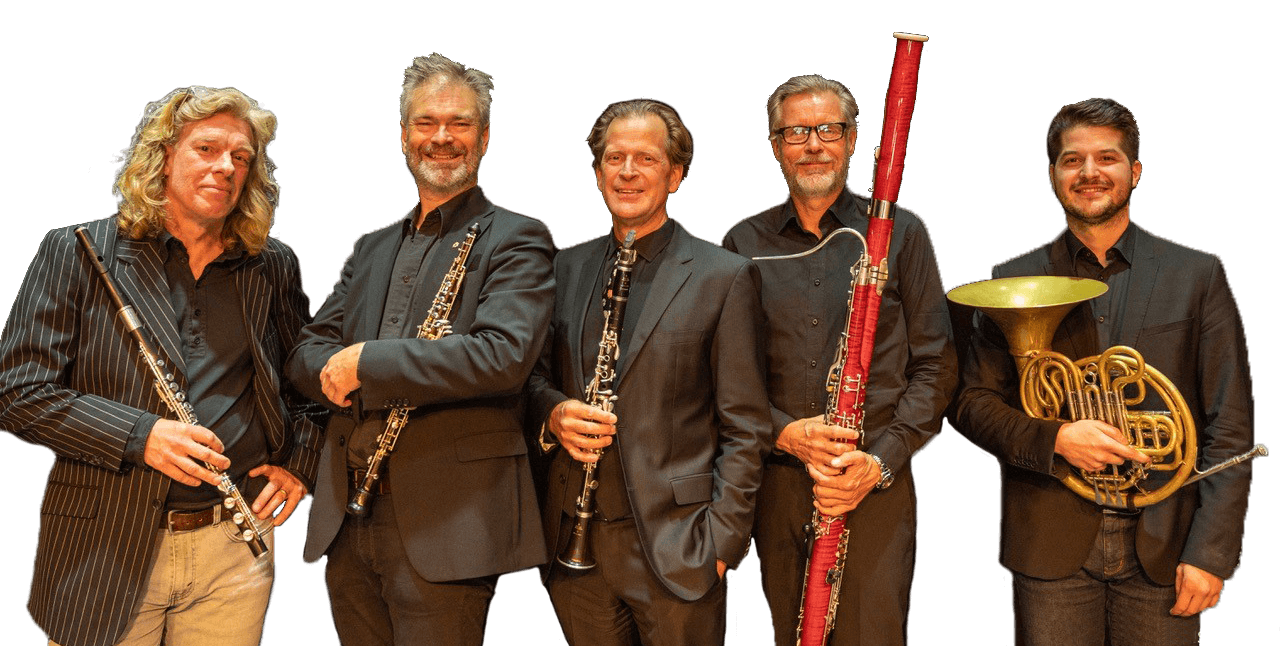 ©PerAxelsson2020
ROYAL WIND QUINTET STOCKHOLM
The Royal Stockholm Wind Quintet is a prestigious ensemble composed of eminent soloists attached to the Royal Opera. These five high-level artists have refined their individual and collective playing within the demanding framework of large international orchestras. The five musicians are accomplished and highly regarded soloists in Sweden as well as throughout Scandinavia. The Quintet has stood out in recent years in France, Spain, Germany, Central Europe and of course in Scandinavia, applauded for its very specific, warm and precise sound in the service of a lively interpretation, constantly recreated. The musicians recorded, as a world premiere, the Quintet by French composer Thierry Escaich, published by Éditions Billaudot, for Bavarian Radio then on CD. Appeared in France fourteen years ago, Swedish artists have always achieved great success on the Parisian and regional stages. Members of the Royal Stockholm Quintet are regularly invited by senior conservatories across Europe.

Peter Fridholm, flute – Fredrik Söhngen, oboe – Staffan Mårtensson, clarinet – Benedikt Scholtes, horn – Anders Engström, bassoon.
Mondial management
---
CHAMBER MUSIC
©ArmidaQuartet
ARMIDA QUARTET
The Armida Quartet achieved spectacular success at the 2012 ARD International Music Competition in Munich: 1st Prize, Audience Prize and six other special prizes. Since then, the young Berlin string Quartet has embarked on an exceptional career. They were guest in the "BBC New Generation Artists" series and then in the famous ECHO Rising Stars concert series, performing in the main concert halls of Europe. Their concerts tours follow one another regularly in Europe, Asia and the United States. His first disc recording was released in 2013 with works by Béla Bartók, György Ligeti and György Kurtág and was quickly listed among the best award-winning CDs in Germany. Other recordings followed, with works by Mozart, Beethoven and Shostakovich etc. The Armida Quartet enjoyes collaboration with other artists, such as Thomas Hampson, Martin Fröst, Tabea Zimmermann, Jörg Widmann, Julian Steckel, Sabine Meyer or Daniel Müller-Schott. They are also involved with social and educational institutions, in particular within the associations "Rhapsody in School e.V." and "Yehudi Menuhin Live Music Now e.V". The ensemble gives masterclasses in Germany and abroad.
France management
---
SOLISTS
©DLaval
DANIELLE LAVAL
Piano
Danielle Laval was noticed by Arthur Rubinstein upon leaving the Conservatoire National Supérieur de Musique in Paris, receiving a First Prize unanimously obtained in the class of Vlado Perlemuter. She has since performed worldwide as a soloist with the Amsterdam Concertgebouw, the Orchester du Capitole de Toulouse, the Philharmonic Orchestra of Radio-France or the Salzburg Chamber Orchestra, in chamber music with the Kocian Quartet, the Debussy Quartet or with cellists Gary Hoffmann and Lev Sivkov, and in recital at prestigious festivals such as Baalbeck, Nohant or Flâneries musicales de Reims. Great conductors have invited her, such as Pierre Dervaux, Armin Jordan, Alexender Lazarev, Lawrence Foster, Alain Lombard or Pascal Verrot. Danielle Laval has recorded for EMI, Universal, Naïve and Warner Classic, notably Nino Rota with the Ferrara orchestra then Michel Legrand, Bernard Hermann, André Hossein and Jean Wiener with the Monte-Carlo Orchestra, illustrating her passion for movies. His friendly meeting with Brigitte Fossey has led him for several years to present numerous shows with the actress: Gourmandises, Mozart and his correspondence, The Life of Rachmaninov, The Letters of Mendelssohn etc.
---
SOLISTS
©NMndoyants
NIKITA MNDOYANTS
NIKITA
MNDOYANTS
Piano
Nikita Mndoyants won the First Prize of the Cleveland International Piano Competition 2016 as well as the First Prize of the 2007 Paderewsky Competition. He has collaborated with eminent conductors such as Charles Dutoit, Leonard Slatkin, Dmitry Sitkovetsky, Alexander Rudin etc., at the head of prestigious orchestras: Cleveland, Mariinsky, Saint-Petersburg etc. He was acclaimed in the biggest rooms, at Carnegie Hall, at the Tchaikovsky Hall in Moscow, at the Auditorium of the Louvre in Paris, at the Bozar Center for Fine Arts (Brussels), or at the Elbphilharmonie in Hamburg. Since his first concert with the Borodin Quartet in 2004, he has pursued his passion with the Brentano, Eben, Zemlinsky and Szymanowsky Quartets. His partners are prominent artists, pianists Alexander Ghindin and Vyacheslav Gryaznov, violinists Dmitry Sitkovetsky, Andrej Bielow and Valeriy Sokolov, cellists Lev Sivkov and Evgeny Rumyantsev and clarinetist Patrick Messina. Nikita Mndoyants leaves in France while holding a teaching position in orchestration at the Tchaikovsky State Conservatory in Moscow. A recording of Russian sonatas for cello and piano performed with his compatriot Lev Sivkov is expected in 2021 (Continuo Classique label – UVM Distribution).
Mondial management
---
SOLISTS
©LSivkov
LEV SIVKOV
LEV
SIVKOV
Cellist
Lev Sivkov, Principal Cellist of the Zurich Opera since September 2018, is a graduate of the Freiburg and Stuttgart Music Academies in Germany, class of French Professor Jean-Guihen Queyras and Swiss Professor Conradin Brotbek. Born in 1990 in Novokuznetsk in Eastern Siberia, Lev Sivkov began studying the cello at the age of five in Novosibirsk with Professor E. Nilov. Between 2016 and 2017 he was appointed Principal Cellist of the Royal Danish Opera in Copenhagen. Lev Sivkov has won many competitions including the famous "W. Naumburg International Cello Competition" in New York (2015 – 1st Prize), and the Seoul International Isangyun Competition: the 3rd Prize and the "UNESCO Creative City of Music Special Prize". Lev Sivkov has given numerous recitals and concerts with orchestras all over the world: in Carnegie Hall, New York, San Francisco War Memorial Hall, Michael Fowler Centre in Wellington and Christchurch Town Hall in New Zealand, Tongyeong Concert Hall, South Korea, in Zürich, Paris, Besançon, Avignon, Épinal, Montpellier, to name a few places. Lev Sivkov has been invited by the great symphony orchestras as soloist, including Opernhaus Zürich Orchestra, Stuttgarter Philharmoniker, Prague Philharmonia, Mulhouse Symphony Orchestra etc. Lev appreciates chamber music. He plays a cello from Miremont (France 1880), kindly loaned by the "State Collection for Baden-Württemberg String Instruments" in Freiburg (Germany).

Anton Arensky, Cello and Piano Sonata op. 56 Lev Sivkov and Nikita Mndoyants
youtube.com/watch?v=Ua7y0KqzdoI
Anton Dvorak, Cello Concerto and Orchestra Lev Sivkov, Cello
youtube.com/watch?v=2rL3PpwdtjY

Mondial management
---
SOLISTS
©SMårtensson
STAFFAN MÅRTENSSON
Clarinette
The Clarinetist Staffan Mårtensson has established himself as one of Scandinavia's most interessant instrumentalists. His repertoire ranges from classical and romantic masterpieces to contemporary works; he is also a jazz improviser. Since 2001 he has been solo clarinet at the Royal Swedish Opera. Staffan Mårtensson performs throughout Europe with orchestras. Staffan Mårtensson's dedication to chamber music plays an important role in his career as a musician. He performs at Swedish and international festivals and is too the Artistic director of Östergötland Music Days in Sweden. Staffan Mårtensson has recorded numerous CDs: works by Mozart, Copland, Brahms, Schumann and contemporary composers, as well as various jazz titles. In 2006, he won a Swedish Grammy as Classical Soloist of the Year. Staffan Mårtensson, an accomplished conductor with a master's degree from the Stockholm Royal College of Music, conducts orchestras and symphonic wind ensembles throughout Sweden. For his contribution to Swedish musical life, he received the Royal Medal of Litteris et Artibus in 2014. Staffan Mårtensson "Buffet Crampon artist", plays exclusively Buffet-Crampon clarinets and Vandoren mouthpieces and reeds.
Mondial management
---
OTHERS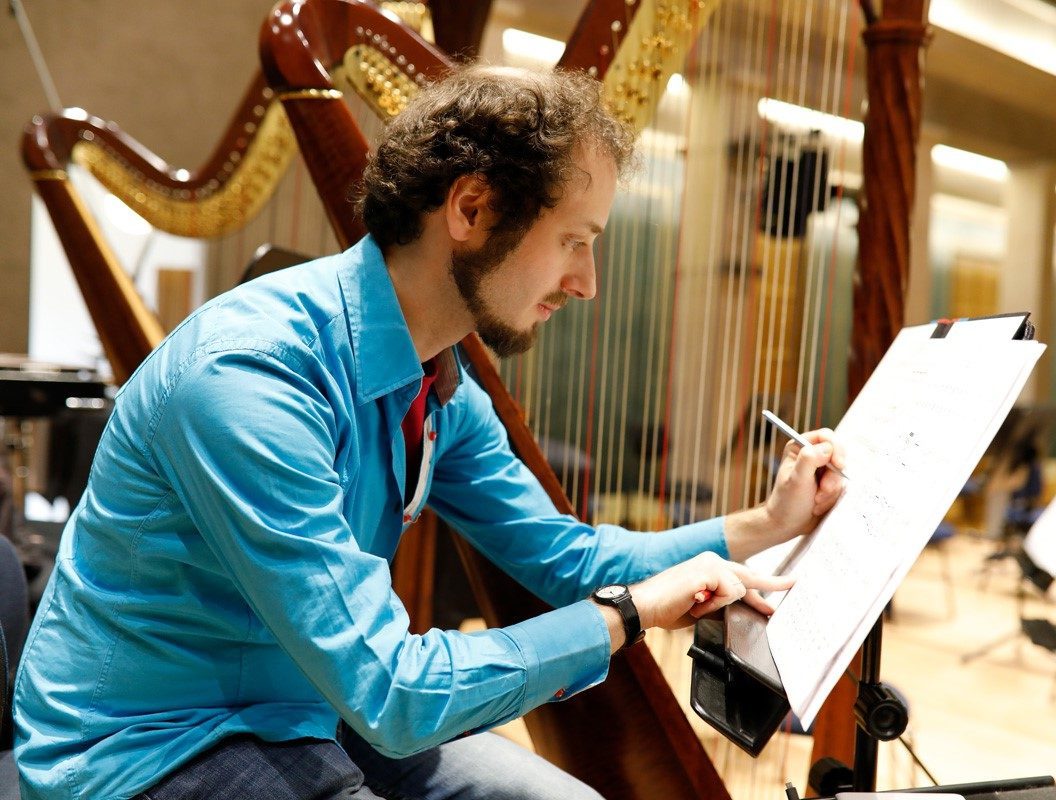 ©OndřejAdámek
ONDŘEJ ADÁMEK
Composer and Conductor
Born in Prague, Ondřej Adámek graduated in composition from the Academy of Music in Prague and received his Composition Prize in 2006 in the National Conservatory of Music in Paris (CNSM). Fascinated by other cultures, he assimilates all the aesthetics he comes across. His works reveal all these influences, marking them with a specific sonic color which, allied to a powerful rhythmic and a solid formal architecture. He has also been active since 2013 as a conductor and, in 2018, conducts his opera Alles klappt at the Munich Biennale as well as his opera Seven Stones at the Aix-en-Provence festival. He conducts the Modern Ensemble, the Musikfabrik Ensemble, the Kammerensemble Neue Musik, the Contemporary Orchestral Ensemble, the Chorwerk Ruhr, the Accentus, the Oslo Sinfonietta, the Ensemble 2E2M, the Prague Modern Ensemble, the Ensemble Ilinx, as well as the Ensemble of musicians from the Orchestre National de Lille. In 2014-2015, Adámek was a resident at the Villa Medici in Rome where he wrote his opera Seven Stones, premiered in 2018 at the Aix-en-Provence Festival. The Concerto for violin and orchestra that he wrote for Isabelle Faust was premiered by the Bavarian Radio Symphony Orchestra and Peter Rundel in December 2017. Ondřej Adámek receives numerous commissions for works for orchestra, choir, ensemble, sometimes with electronics. Among its sponsors are as many prestigious ensembles as European contemporary music festivals such as the London Symphony Orchestra, the Ensemble Intercontemporain, the Vienna Klangforum, the Lucerne Festival Academy Orchestra, the Diotima Quartet, or the German festivals of Donaueschingen and of Witten. Adamek forms NESEVEN, an original vocal ensemble dedicated to creations.


France management as Conductor